12 March 2015
Posted by:

adm-prgsft

Category:

News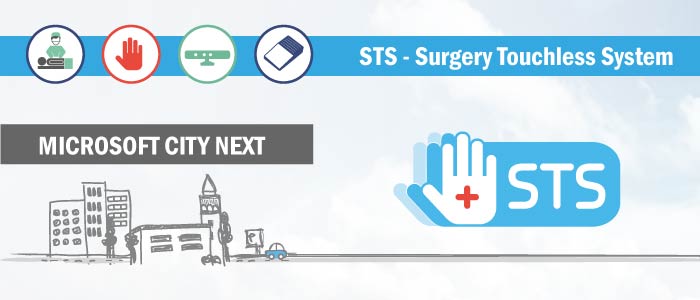 During the press conference dedicated to the presentation of the most interesting projects of Microsoft CityNext, Proge-Software and Campus Bio-Medico, together with Rita Tenan (Microsoft Italy Division of Public administration Director) illustrated STS – Surgery Touchless System.
STS allows biomedical images to be controlled in touchless mode during the surgical operation allowing the interesting opportunity to manipulate 3D models rebuilt from the same diagnostic images.
"The Kinect for Windows technology has allowed us to design new interactive ways to meet, in an innovative way, the specific demand of the healthcare sector, by providing a tool which facilitates the access to biomedical images and contributes to the reduction of the surgical intervention time. The use of Microsoft Cloud Services allows for a decrease in the time and in the cost of implementation, resulting in a faster time to market. It also allows us to offer a product that frees customers from the infrastructure demands related to its adoption, whilst maintaining the highest levels of security, "explained Simone Allievi, Proge-Software's Marketing Director.
Roberto Setola, Director of the Complex Systems & Security Lab at the University Campus Bio-Medico in Rome, has highlighted the importance of the gesture recognition library purposely designed to ensure the immediate and intuitive approach which characterizes the STS solution.
"The idea behind the Surgery Touchless System (STS) – declares Prof. Roberto Setola – is to allow surgeons to be able to consult diagnostic images during a surgical operation without the help of an assistant, allowing to overcome the ambiguity of language – for example the sentence "turn a little bit to the left" doesn't lead to an immediate execution by the assistant – making everything simpler and more intuitive. For this purpose, STS provides an innovative system for gesture interpretation which facilitates the recognition of the commands given by a surgeon's natural hand movements ".