10 Ottobre 2014
Postato da:

adm-prgsft

Categoria:

Eventi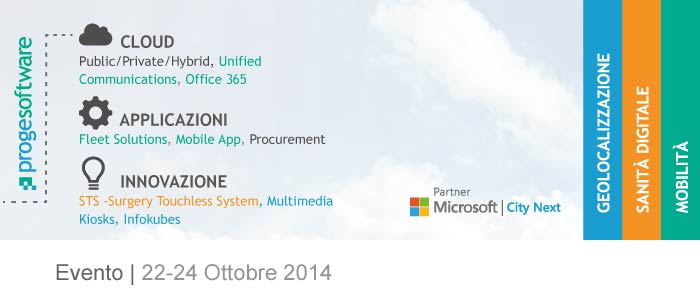 Proge-Software sarà presente alla Smart City Exhibition 2014, l'evento sulle città intelligenti che si terrà dal 22 al 24 ottobre a Bologna Fiere.
La manifestazione propone una visione completamente nuova del concetto di città, intesa come insieme di flussi informativi e reti di relazioni e comunicazioni, fisiche e digitali, caratterizzate dalla capacità di creare benessere per le persone e migliore qualità della vita.
Proge-Software, vincitore del Microsoft City Next Italian Partner of the Year 2014 Award, avrà una propria postazione allo stand Microsoft, dove presenterà soluzioni e progetti innovativi in ambito di geolocalizzazione, mobilità e sanità digitale.
Al nostro stand sarà disponibile anche una postazione demo di STS – Surgery Touchless System, la soluzione Proge-Software che fornisce un avanzato strumento per il controllo di immagini biomediche in modalità touchless (tramite Microsoft Kinect for Windows) rivoluzionando le modalità di consultazione da parte del chirurgo delle informazioni del paziente in sala operatoria.
STS è realizzata nell'ambito del SIM (Sviluppo Interazione Multimediale), il progetto condotto in sinergia con l'Università Campus Bio-Medico di Roma e NITEL che prevede lo studio di comportamenti interattivi touchless e la definizione di interfacce applicative ottimizzate per l'impiego di Microsoft Kinect for Windows.
Sign up for free at Smart City Exhibition in 2014