10 October 2014
Posted by:

adm-prgsft

Category:

Events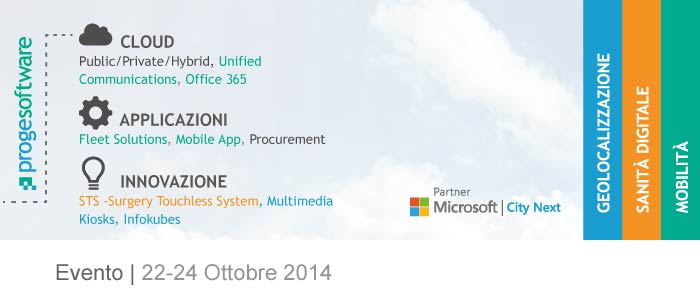 Proge-Software will be attending the Smart City Exhibition 2014, the 'Smart Cities' event which will take place from 22nd to 24th October in Bologna Fiere.
The event proposes a completely new vision of the city concept, as a set of informative flows, and physical and digital relationships and communications networks, characterized by the ability to create well-being for individuals and better quality of life.
Proge-Software, the winner of the Microsoft City Next Italian Partner of the Year 2014 Award, will have a dedicated stand in the Microsoft booth, where it will present innovative solutions and projects in the area of geolocation, mobility and digital health care.
SCE2014 will also be the occasion to present STS – Surgery Touchless System: designated areas will be available where you can directly test this solution, which is destined for sterilized areas of surgery rooms. It provides an advanced tool for biomedical image control in touchless mode (using Microsoft Kinect for Windows) and allows the surgeon, interactively and with simple gestures, to consult all of the documentation of the patient during the surgery.
STS was created as part of SIM, the experimental project conducted in collaboration with the University Campus Bio-Medico of Rome and NITEL, which includes the study of touchless interactive behaviors and the definition of applicative and optimized interfaces for the use of Microsoft Kinect for Windows.
Sign up for free at Smart City Exhibition in 2014